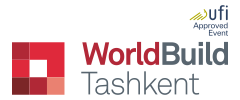 Worldbuild Tashkent – Buildtech 2018
28.02.2018-02.03.2018
Tashkent
A 72
www.uzbuild.uz
OLMET ITALY SRL will be exhibiting from February 28th to March 2nd 2018 at "WORLDBUILD TASHKENT / BUILDTECH 2018" in Tashkent (Uzbekistan), Uzexpocentre NEC,
Pav.A1 – Booth no. A 72  
In the frame of WorldBuild Tashkent 2018 will be presented special section «BuildTech 2018», dedicated to Building Equipment and technologies.
For information or appointments, don't hesitate to contact us!
Sales Area Manager: Mr. Byron Andrade
olmet-russia@olmetitaly.com  – mob. 007 980 3706449